With over 30 years experience operating in the industry under FCA Regulation, we're fully equipped to offer help, advice and services to the wider Scottish market pending April's FCA regulatory changes.
INTRODUCTION OF NEW RULES FOR CLAIMS MANAGEMENT COMPANIES TO BOOST CONSUMER PROTECTION & PROFESSIONALISM
The Financial Conduct Authority (FCA) recently published new rules and fees that will apply to all claims management companies (CMCs) from 1st April 2019. From that date, the FCA are to take over responsibility for regulating the firms, who help thousands of people every year.

From April, all CMCs set up or serving customers in England, Wales and (for the first time) Scotland must be authorised by the FCA to continue operating legally. To be authorised, they must demonstrate that they meet the minimum standards required to operate. Any firm that isn't authorised will have to stop handling claims.

The FCA aims to ensure that CMCs are trusted providers of high quality, good value services that help customers pursue legitimate claims for redress, and therefore benefit the public interest.

The focus is on three key areas:
Customers – The FCA want customers to feel empowered and confident in choosing value-for-money services which are appropriate for their needs.
CMCs – The FCA want CMCs to help customers get redress in a fair way, in compliance with FCA rules and quality standards.
Regulatory – Ensuring that the FCA regulate in a way that prioritises high standards of conduct and protects consumers, to help improve public confidence in claims management services.
Jonathan Davidson, Executive Director of Supervision – Retail and Authorisations at the FCA, said:
"We're ready to take over regulation on 1 April 2019. The new regime aims to drive up standards in a sector whose reputation has been tarnished by some companies engaging in high pressure selling and by failing to provide clear information on the fees they charge."
"The new rules will ensure firms are transparent about their estimated fees before the customer signs on the dotted line, and notify customers of free statutory ombudsmen or compensation schemes. It's vital that customers have the information they need to make informed decisions. We will take action against those that break the rules."
In addition, all firms have to record and retain customer telephone calls for a year after their final contact with a customer.
The next major milestone for firms commenced in January. Between January and April, CMCs must apply for a 'temporary permission' to operate. This will allow them to continue operating until they are fully FCA-authorised during one of two waves running from April until the end of July.
SCOTLAND-SPECIFIC CLAIMS MANAGEMENT SOLUTIONS: HOW IS YOUR CLAIM GOING TO CHANGE?
With FCA regulation looming in Scotland for the first time, signing your business up to Total Claims Solutions' claims management service means you will receive instant access to our expert lawyers located in Glasgow and Edinburgh. They are able to process most types of claims on your behalf, as well as providing a full range of legal services.
Claims Management Services

Total Claims Solutions' team can provide a cost-effective solution for CMCs looking to handle more leads or branch out into other areas of legal lead generation. Our services will allow you to do this while lowering your costs and improving your conversion rates.

We provide access to fully-managed First Notification of Loss Services, Credit Hire and Repair, Legal Documentation Sign-up and Medical Rehabilitation Services from Physio to Medical Reporting that are specifically located and targeted for the Scottish Claims and Legal Market.

Our team has been assembled over many years and has vast experience of the insurance and broker markets. This will enable us to:
Offer a MOJ/FCA Regulated Solution
Lower your costs
Increase your revenue
Shorten typical claim life cycles
Resolve a wider range of claim types
Access a full range of Legal Services
JOIN US TODAY
If this sounds like something that your business could benefit from, get in touch today to find out more.
ARE YOU AND YOUR BUSINESS READY FOR CHANGE?
Since 2007 the Government has been increasingly concerned about misconduct in the claims management sector. In 2015, it commissioned the independent Brady Review to examine the problems and make recommendations to improve the way this sector is regulated. The Government accepted these recommendations.

The Financial Guidance and Claims Act 2018 (FGCA) transfers the regulation of CMCs from the existing Claims Management Regulator (CMR), which is part of the Ministry of Justice (MoJ), to the FCA. It also extends regulation of CMCs to Scotland. The Government also confirmed that those CMCs dealing with section 75 claims will be regulated by the FCA.

Parliament has approved secondary legislation that defines which claims management activities will be regulated. It sets out the CMC temporary permissions regime, and the other changes necessary to transfer powers and responsibilities to us. The FCA will regulate 2 different groups of activities across 6 claims sectors.

The diagram below shows these activities and illustrates the 7 permissions that firms can apply for. CMCs that are set up or serving customers in England, Wales and Scotland must apply for the permissions which cover their activities in the relevant sector. There will be 1 permission for lead-generation activities covering all the sectors, and 6 sectoral permissions that cover the activities of advising a claimant, investigating a claim and representing a claimant.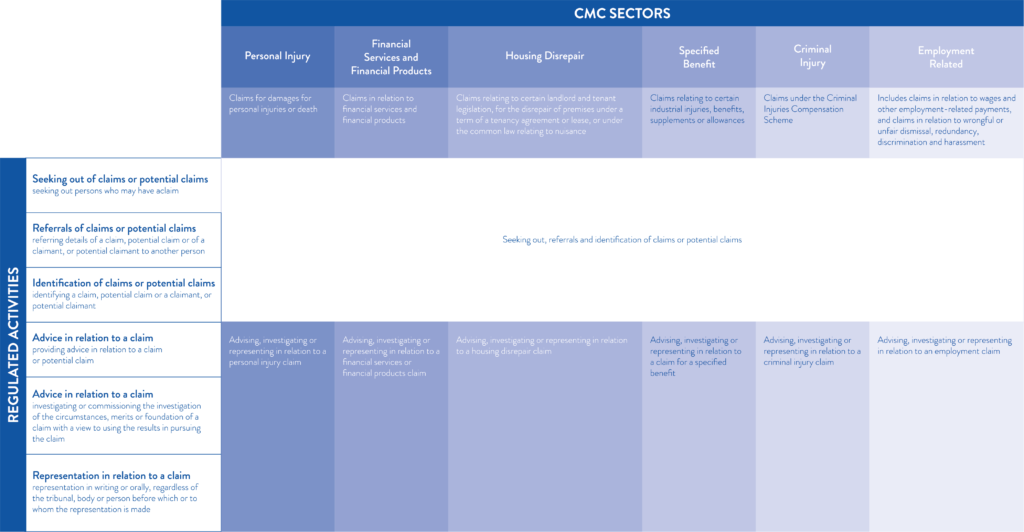 Page 5 of FCA doc found here

Other changes to the regulatory environment for CMCs include the FGCA introducing an interim fee cap for Payment Protection Insurance (PPI) claims of 20% (excluding Value Added Tax (VAT)), which came into force in July 2018. The CMR will enforce this cap until responsibility for regulation is transferred to the FCA.

The FGCA also gives the FCA powers to cap fees for claims management services more broadly, and puts a duty on the FCA to use these powers for claims for all financial services and financial products. The FGCA cap will stay in place until new powers can be used to impose a new fee cap. We will consult on any fee cap rules we propose to make.

This diagram summarises the key dates for CMCs who want to continue providing regulated claims management activities after April 2019.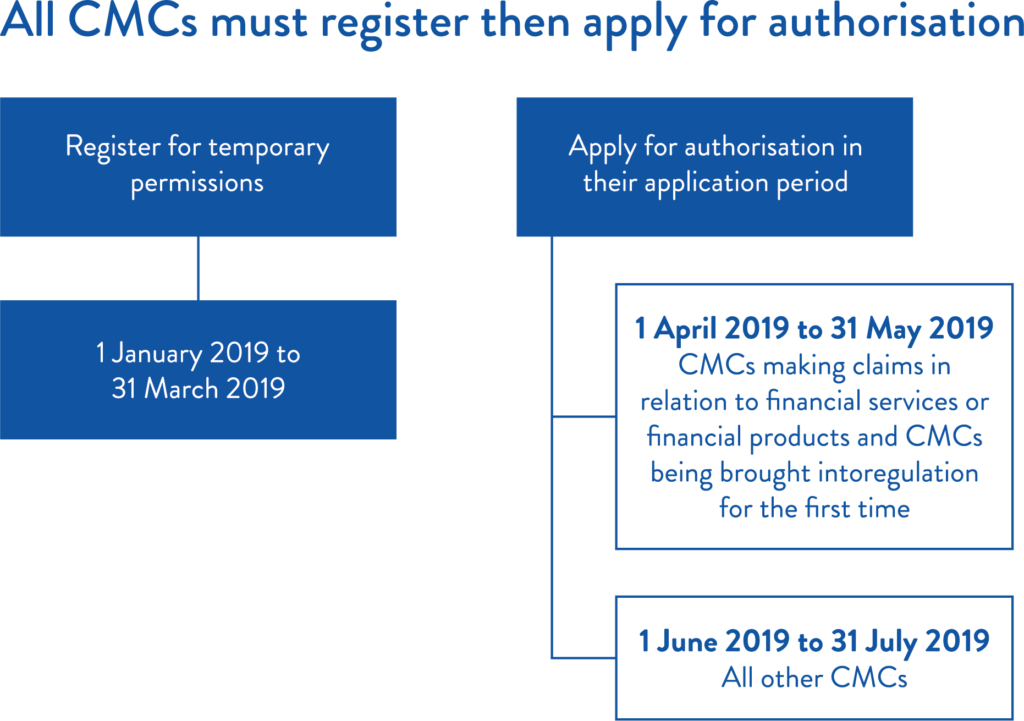 Page 6 of FCA doc found here